A Buyer's Guide to Shopping For Your Next Truck
Published August 25, 2019 by Benjie Sambas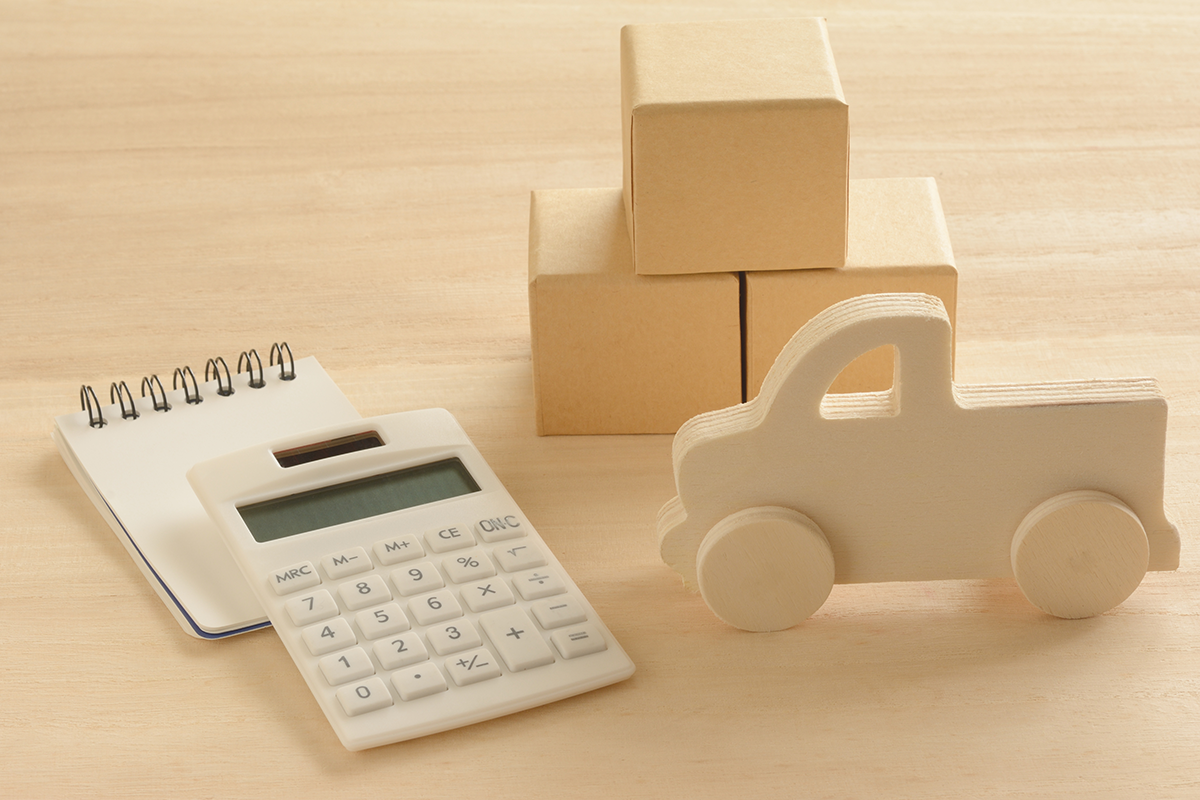 So you wanted a more rugged ride, or just expanding your car options from the hatchback your parents have gifted you. Either way, one of the more popular options for people who wants action and comfort while driving is getting a pickup truck.
Why are trucks so popular?
Contrary to what beginners know, a truck is not just a large vehicle with a cab out front and a pickup bed in the back. Did you know that large SUVs and crossovers are also considered as trucks, and have their own share of followers? There are even minivans that can be considered as "off-road vehicles" and typed as light trucks, depending on state and agency regulations.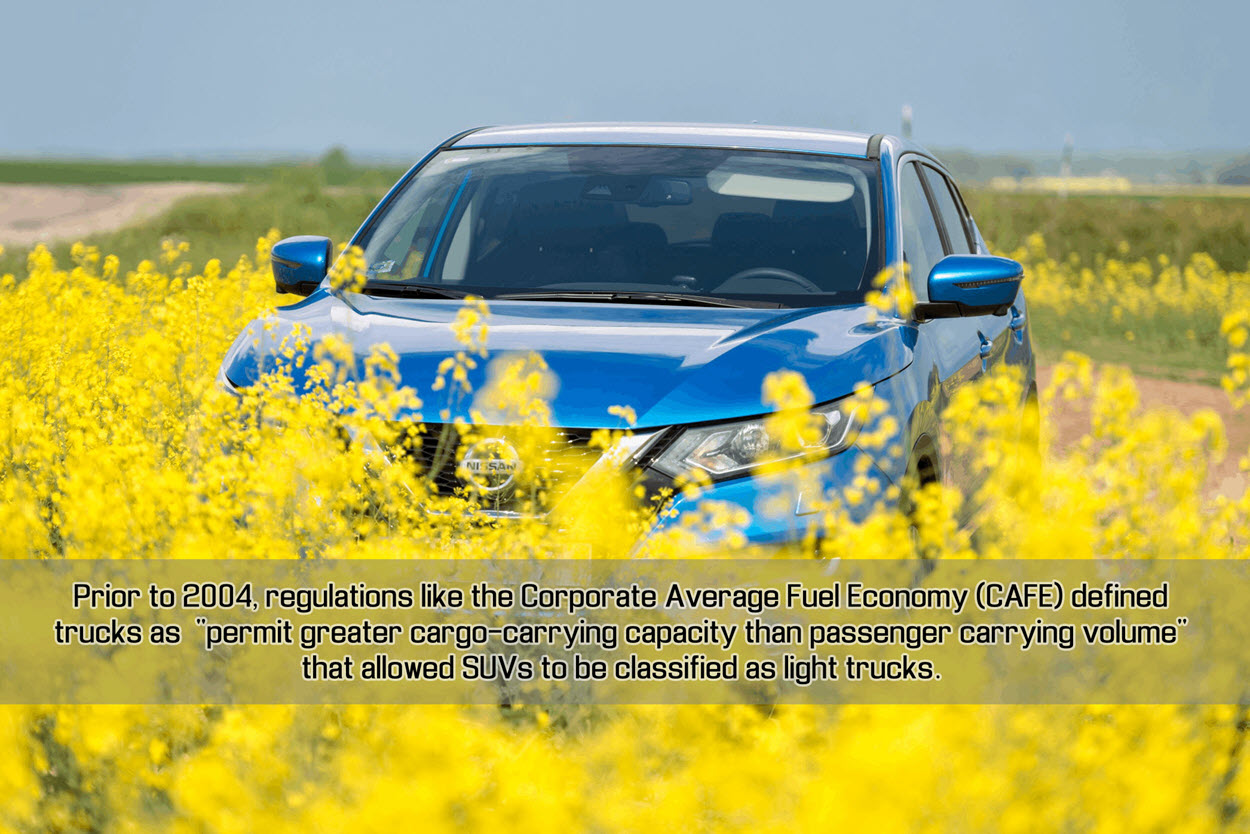 While you may commonly see sedans out on the road, the pickup truck is still a popular option among motorheads, especially those who want to sport a rugged look and feel for their vehicle. However, pickups did not come off the production line as they are. Cargo trucks were a necessity to the workforce in the early 1900s, but enterprising men like Henry Ford wanted to expand the lineup to include civilian use. By 1928, the Ford Motor Company has sold over 1.3 million of the 1917 Model TT, considered to represent the beginnings of the American truck history. Today, Ford still holds the distinction of being the top vehicle choice for 42 years straight. The model? – the company's classic F-series pickup.
Why are pickups popular versus conventional cars?
After the global recession commodity prices crashed. Oil prices quickly rebounded to around $100 a barrel, which drove heavy investment in fracking. That in turn forced OPEC to defend their share of the oil market by increasing production & driving down oil prices. Oil prices crashed, bottoming out at $26.21 a barrel in February of 2016.
When oil prices are low consumers shift preference from purchasing cars to purchasing light trucks & SUVs. As the economy has heated up auto sales hit over 17 million units per year. In spite of strong unit volume growth, car sales have remained sluggish due to low oil prices.
Passenger cars "continues to be a difficult segment as we see a continued shift into SUVs," Ford's U.S. sales chief, Mark LaNeve, said on a conference call. "We anticipate continued migration" from cars to SUVs over the next five years, he added.
In 2017 trucks & SUVs accounted for 67% of the total market according to estimates shared by Toyota. Low oil prices have lifted truck prices while suppressing hybrid & electric vehicle sales.
Here are the best-selling truck models in 2017.
| Make | Model | Sales Volume |
| --- | --- | --- |
| Ford | F-Series | 896,764 |
| Chevrolet | Silverado | 585,864 |
| Dodge | Ram | 500,723 |
| GMC | Sierra | 217,943 |
| Toyota | Tacoma | 198,124 |
| Toyota | Tundra | 116,285 |
| Chevrolet | Colorado | 112,996 |
| Nissan | Frontier | 74,360 |
| Nissan | Titan | 52,924 |
| Honda | Ridgeline | 34,749 |
Low oil prices have led to stagnant car sales as truck sales saw continued growth: "Sales of car-based models fell nearly 11% in 2017; while sales of pickups, SUVs, crossovers and vans rose 4.3%, to 10.9 million. That was about 60% of all light-vehicle sales."
In the coming years Ford intends to stop selling most of their sedan models to focus on more profitable trucks & SUVs.
Ford, one of the great engines of 20th Century American industry, is about to do the unthinkable: abandon the American car business almost entirely. Just two years from now, a mere 10 percent of the vehicles rolling off Ford assembly lines and into North American showrooms will be sedans and sports cars like the Taurus or Mustang. The rest will be pickups, SUVs and commercial vehicles
According to industry veterans, most buyers tend to say they are focused on carrying capacity, and at first glance, it may be one of the primary reasons. With an open bed design in the back, a conventional pickup can hold more things than a hatchback or a sedan. Meanwhile, even if buyers opt for light truck options like an SUV or a crossover, today's designs on these options focus on carrying capacity (be it people or cargo) than conventional four-wheels.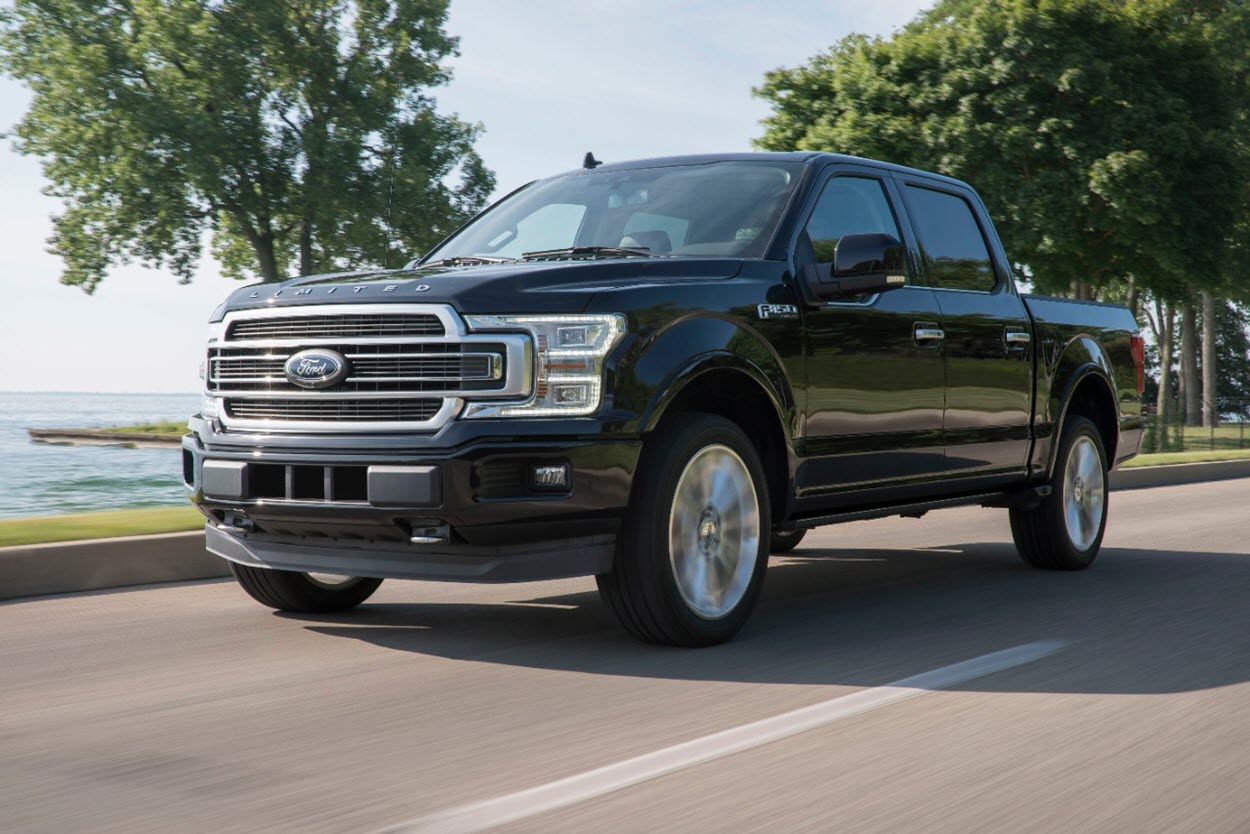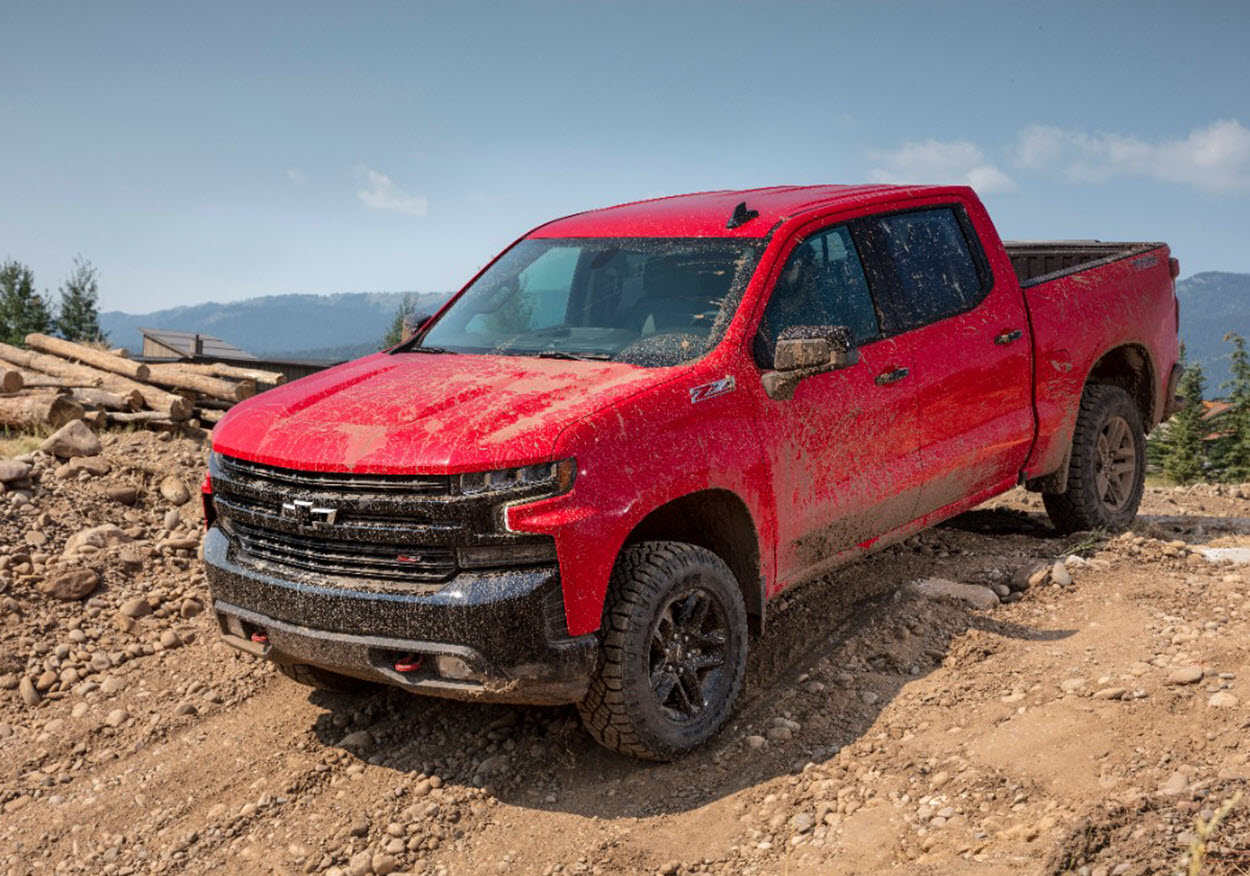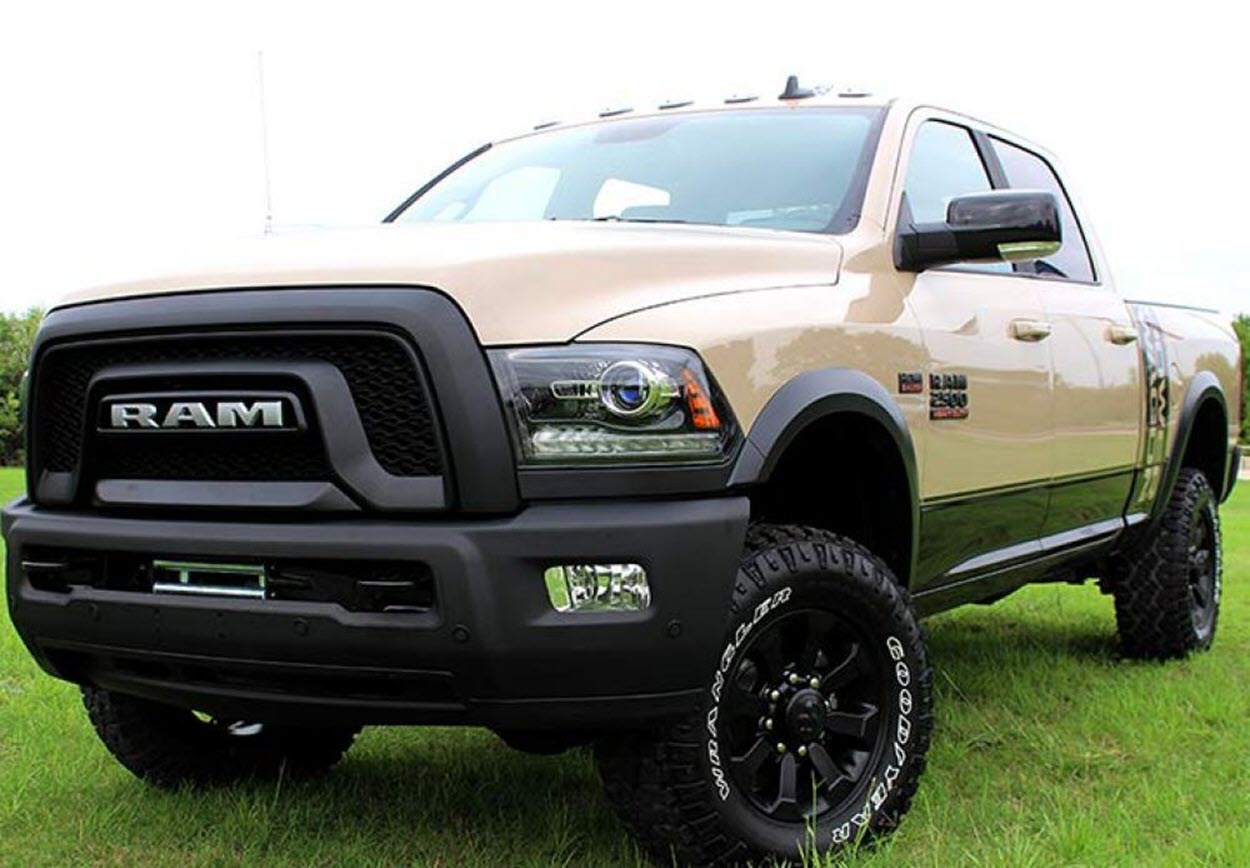 In 2018, pick up trucks were once again the most popular type of vehicle sold in the United States. Pictured here are the top three, the Ford F-series with 909,330 units sold; the Chevy Silverado with 585,581 units sold; and the Dodge Ram which sold 536,980 units.
Most manufacturers have their own truck lineups, and some have become popular among motorheads. In the last ten years, Ford remains as the top pickup producer – even before the year ends, the automobile company has already released at least a million pickups from its production line. Other popular brands for passenger trucks include Chevrolet, Ram, and GMC. Even known sedan makers like Toyota (with their Tacoma, Hilux, and others) and Nissan (Frontier and Titan) have their share of pickup sales.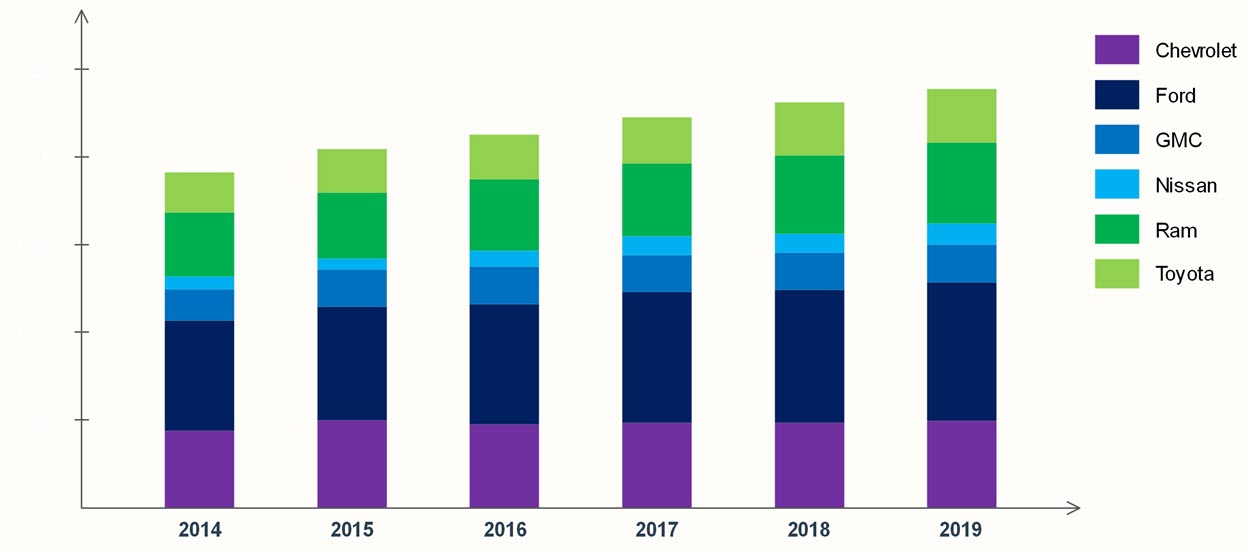 Comparing pickup sales since 2014. The number of units sold keeps on rising each year. Meanwhile, out of popular brands, Ford currently makes up the biggest block of all pickups sold. Other popular brands aside from Ford and Chevrolet include Nissan and Toyota.
Pickup versus SUV versus crossover
Capacity-wise, some first-time buyers may even take into account large hardbodies like SUVs and crossovers, and wouldn't know the difference. Did you know that while all of them are usually large enough to carry more than what is needed – either people or cargo – there are differences between a pickup, an SUV, and a crossover that you need to know so you can make the right choice?
Is a pickup right for you?
Most people want pickups because of their large, open-bed space, meaning it has more capacity compared with other car types. While previous versions make this four-wheel a fuel hog, recent engine technology has made recent models fuel-efficient and high-mileage hardbodies, so most pickups have these as add-ons to their engine and performance features.
While pickups can virtually do anything, there may be some drawbacks for people who want comfort and smooth rides. Most pickup models focus on performance and stability, so features like connectivity, plush interiors, and others may only be available for luxury models – which means you'd need extra to pay for these. In addition, since pickups have been made for mostly off-road driving, they have taller platforms and high center of gravity, and this can be a nightmare for city cruises. Because of their size, getting a good, indoor parking space can also become a problem.
The most popular pickup in the US remains to be the Ford F-series. Its base model, the F-150, starts at an average price of $27,000 plus add-ons for features. There are also other popular models like the Chevy Silverado, Toyota Tacoma, and Dodge Ram.
When to consider an SUV?
Some buyers like to haul both cargo and people, so a closed-body design where the back can be configured to carry either is needed. This is where a sport utility vehicle is strongest. With a passenger car interior on a truck platform, SUVs offer smooth, comfortable rides while also being able to go off-road.
However, since they are made as "something in-between," most models don't have the full capacity and towing power of pickups. In terms of fuel economy, full-sized pickups like the Ford F-series also win over large-bodied SUVs such as Ford Expedition. The most popular SUVs of all time include the Chevy Suburban, regarded as one of the first "true SUVs" since its debut in 1935; the Ford Bronco which stopped production in 1996 but will be revived as a full off-road Bronco 2020; and the Hummer H3 Alpha. In terms of use and pricing, some SUVs you commonly see on the road are the Jeep Wrangler (which starts from $28,000) and the Range Rover (starts at $49,000 for the 2018 edition).
What about a crossover?
Essentially, the crossover is what you get when you combine an SUV with a station wagon or a hatchback. The unibody construction means you get the most out of the tight space. Meanwhile, since it is made lighter than true SUVs or pickups, it can handle city driving effortlessly and with better fuel economy.
However, since crossovers focus on space and smoother rides, other features like off-road driving levels were sacrificed. Sure, you can probably go driving on dirt roads, but off-road trekking is inadvisable. The most popular crossover of all time is the 2011 Toyota RAV4. Meanwhile, you can get its 2019 edition for a little over $25,000 base price. Other popular models include the Nissan Rogue (starts at $25,200) and the Ford Explorer (with a $36,675 base price).
Vehicle Classification
Pickups
SUVs
Crossovers
Listed Gross Vehicle Weight Rating (GVWR)
8500-10k lbs for 1/2-ton to heavy-duty
6000-8500 lbs for compact to largest hardbodies
Since most crossovers are SUVs, GVWR is in same range
Can carry how many people (on average)?
Only 4 even for full-sized, crew-cab design
Average of 6 for 3-cab design
Average of 6 for 3-cab design
Average base price
$27,000
$25,000
$25,000
Best for…
Full off-road experience, hauling, towing
Dirt roads, carrying people off-road
Everyday driving
Popular brands and models
Ford F-150, Chevy Silverado, Ram 1500
Ford Explorer and Edge, Toyota Highlander and RAV4, Jeep Grand Cherokee, Kia Sorento
Lots of options
If you are buying your first pickup, there are lots of options to choose from, aside from the popular open bed design. The industry has matured and expanded over the years in that in its own category, buyers have an increasing choice of pickups depending on design, capacity, and fuel economy. While there are many selections to choose from, US pickups are generally categorized based on their gross vehicle weight rating and payload capacity.
Full-size pickups
Known for their carrying capacity, this type of truck gives you the biggest space that you can have, both inside and out. However, since they are the full versions of pickups that maximizes power and capacity, most full-sizes are on the high end of the pickup lineup, price-wise. Full-size trucks can be typed according to their capacity as half-ton or 3/4 ton trucks. There are also 1-ton trucks available, they mostly tend to fall under the heavy-duty type of four-wheels. Half-tons are the ideal and most popular trucks for family use, and include the Ford F-150 and Chevy Silverado. Three-fourth-ton trucks add more power via better engines and suspension systems for rugged drives, and include the Silverado 2500HD, F-250, and Ram 2500.
Mid-sized rides
Mid-sized pickups are gaining interests among consumers, since they are mostly compacts with good hauling power. Although some models may sacrifice capacity, they are the most ideal for day-to-day towing and hauling and can navigate through city streets and the rugged outdoors. Popular examples of this type include the Ford Ranger, the Nissan Frontier, and the Chevy Colorado.
Heavy-duty
Most 1-ton trucks fall in this category, since owners use them for their hauling power and capacity. They can also do long-drives, most people who regularly carry large weight over long distances (like hauling things or towing travel trailers) choose heavy-duty pickups like the Ford F-350, Ram's 3500 series, and the GMC Sierra heavy carrier models.
Aside from "duty types" though, there are some who classify pickups based on their make and use.
Compact/coupe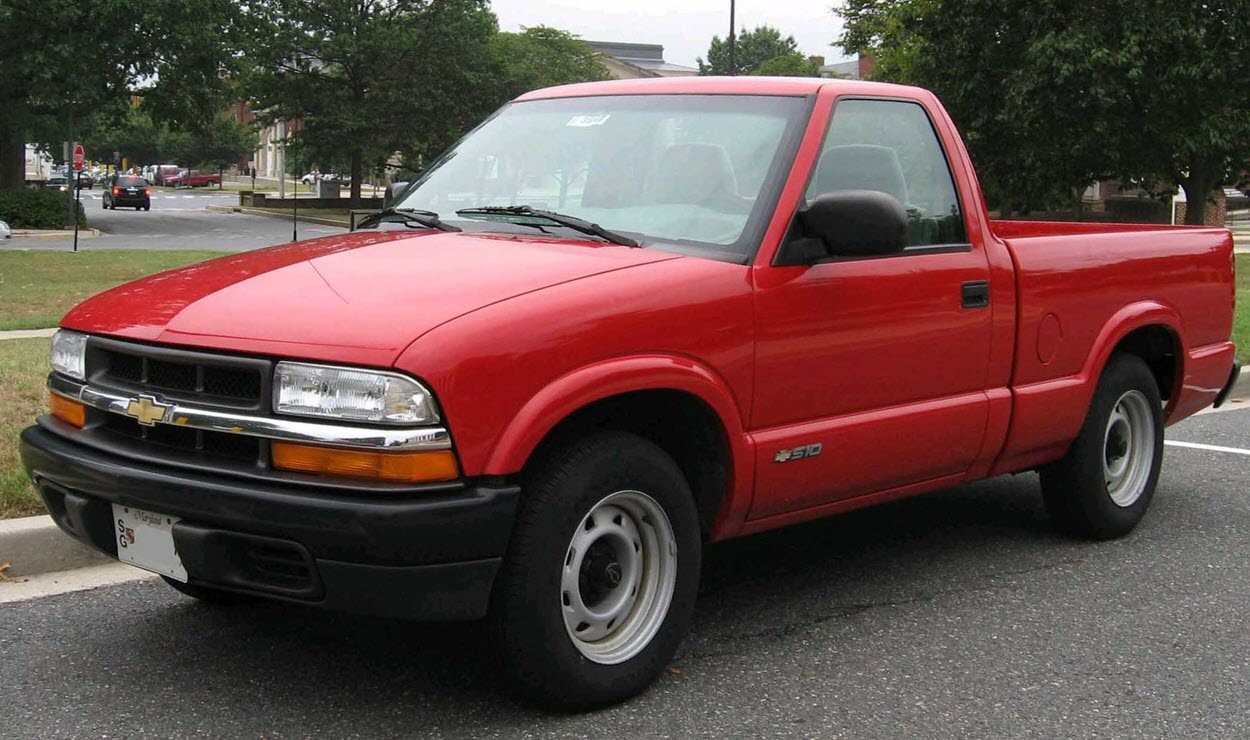 The Chevrolet S10
These are supposed to be "mini" trucks, though they're hardly small at all. They became popular during the 80's and 90's and marketed as midsize trucks with full-size proportions. Some examples of this type include the Chevy S-10s, and older models of the Ford Ranger, Toyota, and Nissan hardbodies.
Electric pickups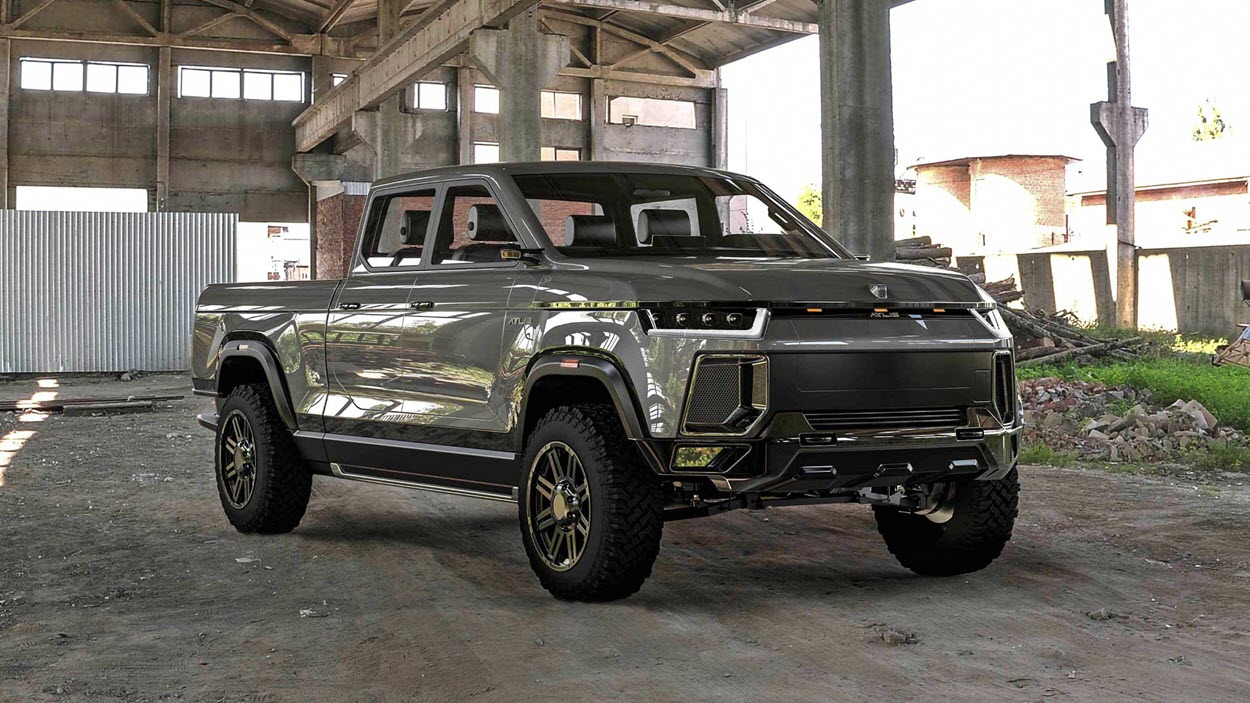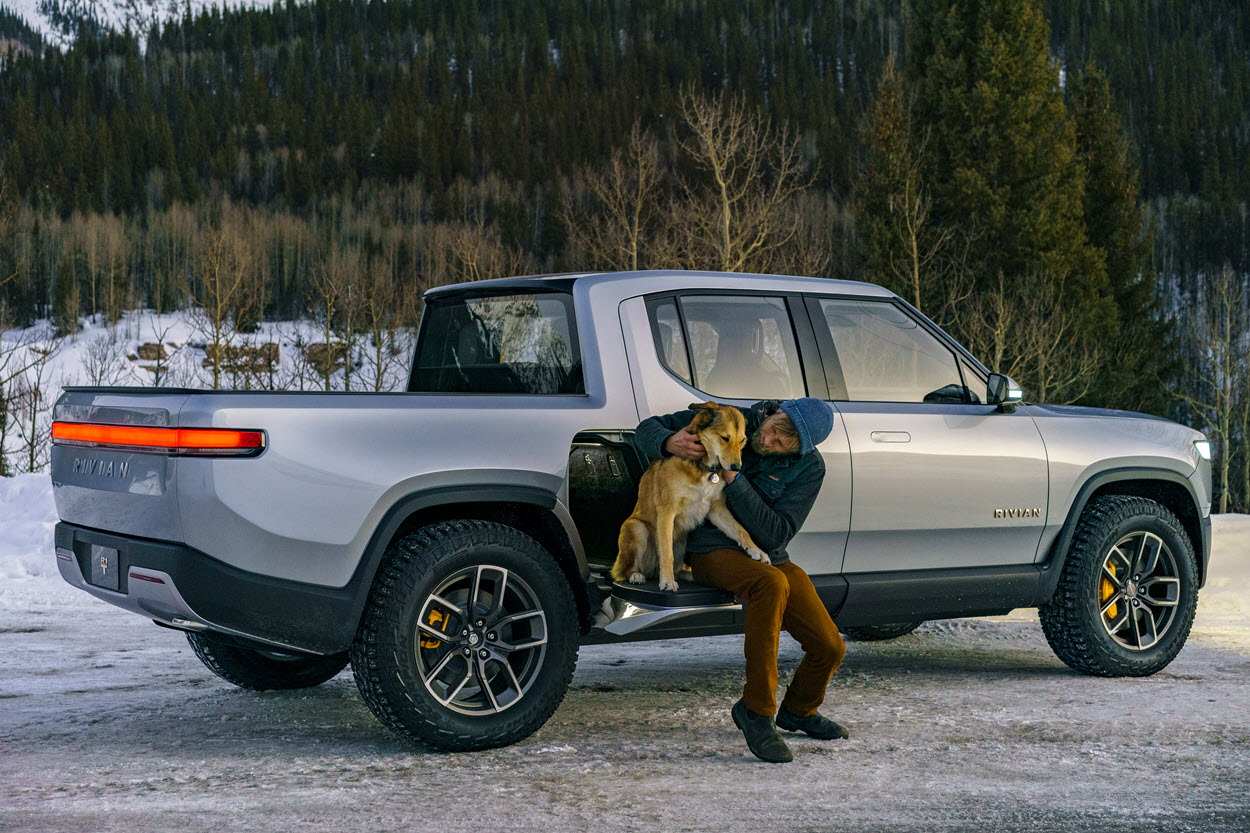 Two examples of 100% electric pickup trucks, the Atlis XT and the Rivian R1T.
Due to fuel economy and emissions becoming important factors for vehicles, most manufacturers are making the move toward the electric car market. However, even if there are some crossovers already available, electric trucks remain a novelty. Since pickups are known to be heavy carriers, having an electric battery means expensive costs when hauling. Known examples of an electric pickup include the Atlis XT and the Rivian R1T.
Hybrid trucks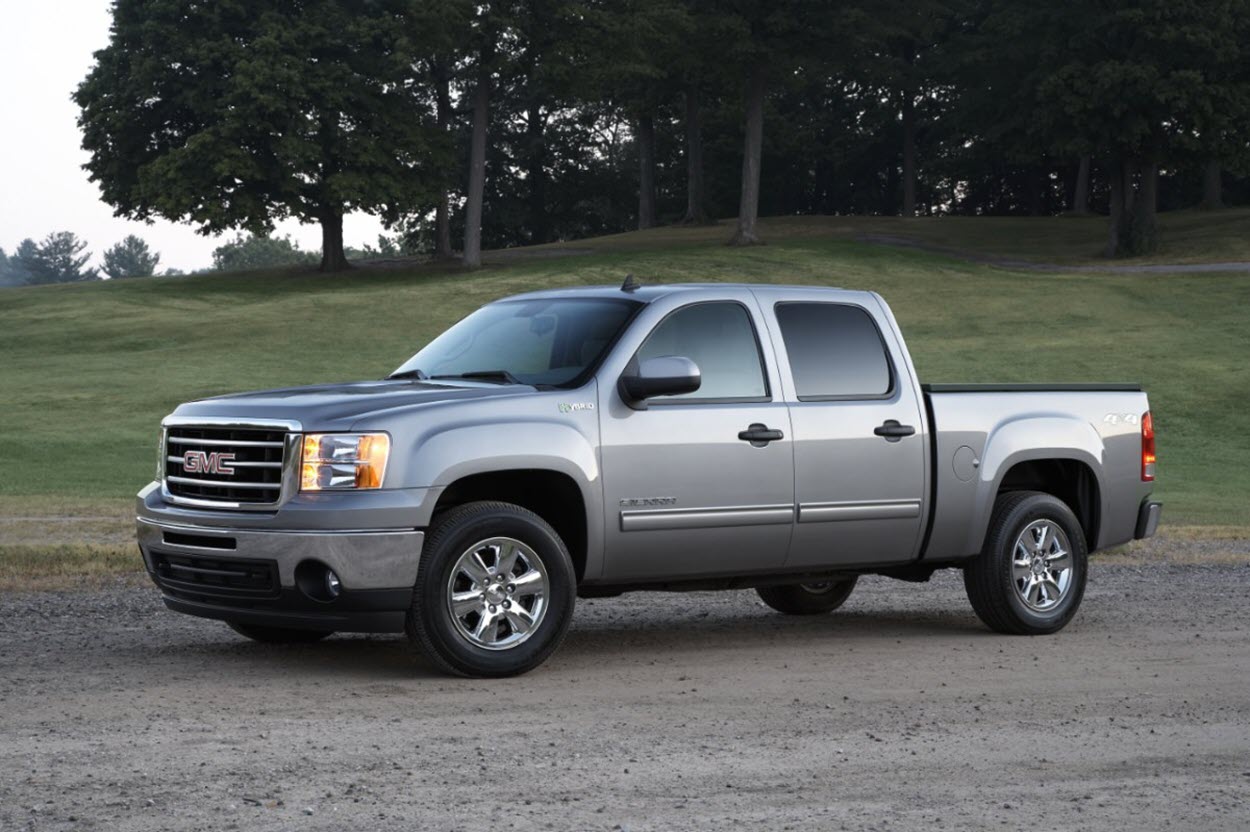 This 2013 version of the GMC Sierra 1500 started as the first hybrid in the full-truck category.
Because of the switch to hybrid technology and the steadily increasing popularity of hybrid cars, most manufacturers are thinking of making this feature available for their pickup lineups However, they need to balance power with fuel efficiency, since an increase on the former makes a decline in the latter. However, there are already hybrid open-beds available in the market, like the hybrid versions of the Chevy Silverado 1500 and the GMC Sierra 1500.
Luxury pickups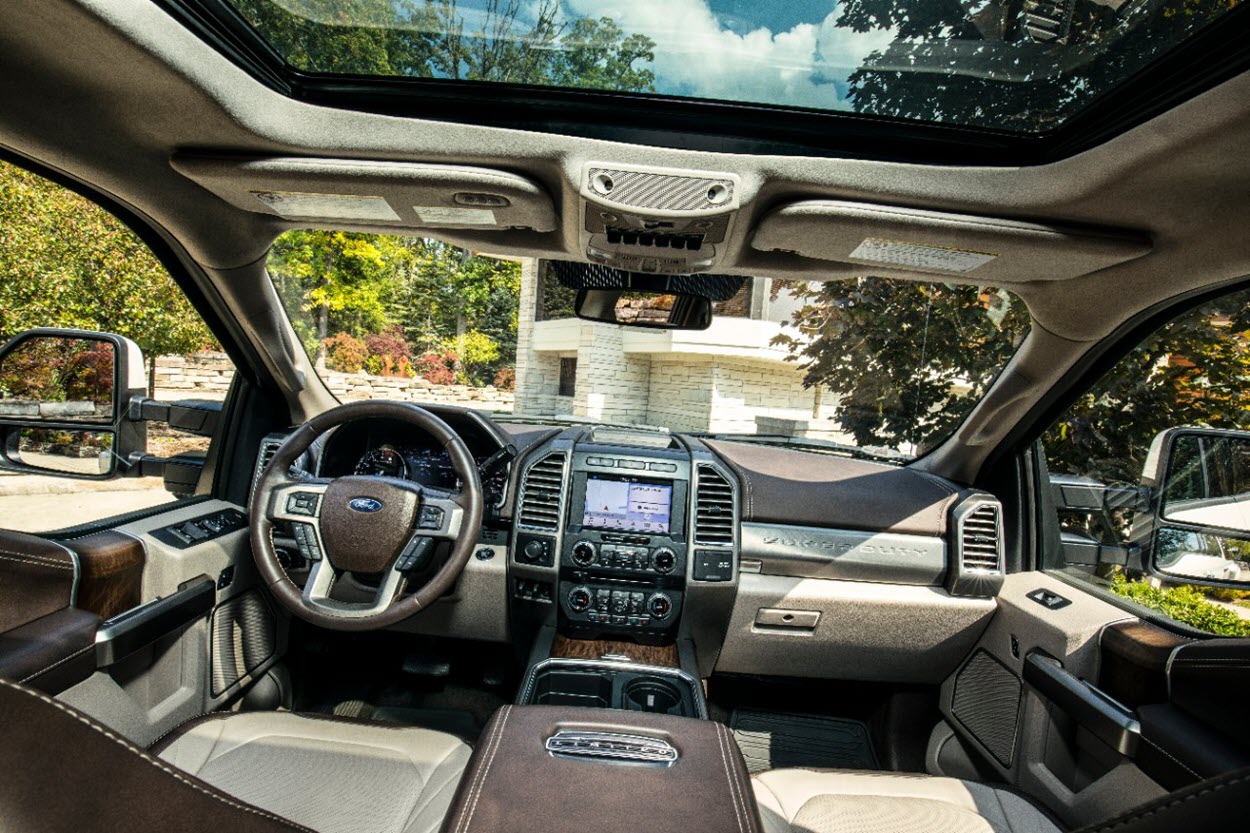 The interior of the Ford F-450 Super Duty Limited, with a base price of $87,100.
More than their towing and carrying capacity, this category of pickups integrate luxury features for a smooth and comfortable ride. Mostly, luxury counterparts of popular versions all feature upgraded interiors like high-grade seats, state-of-the-art features, and aesthetic accents. Luxury versions are available for the Chevy Silverado 1500, Ford F-150, Toyota Tacoma, and GMC Denali.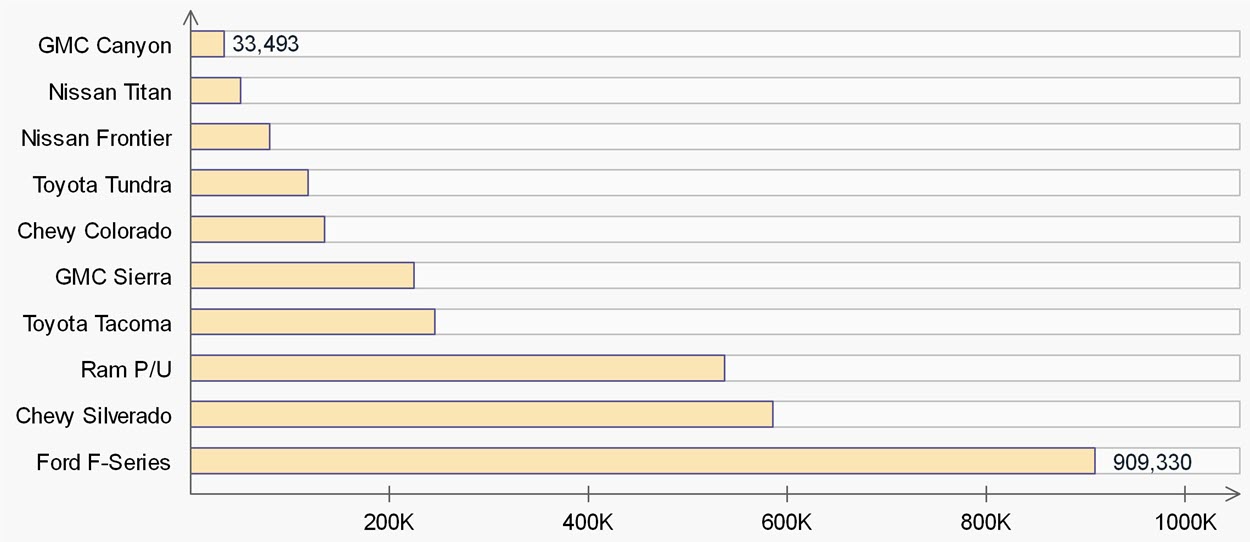 The top best-selling brands and models for pickups in 2018. Notice the big gap between the top, Ford F-Series with shy of a million units sold, against the GMC Canyon with only 33,493 units sold.
Selecting your first pickup
The first question when making the switch to a pickup is, "Why?" Most people, especially inexperienced car owners, often want a pickup, rather than need one. If you really want one though, it's best to get a used pickup. Checking some things on the used car lot with an experienced technician can get you a good deal on an open-bed, even an SUV – that is in good running condition and looks fairly new. However, if capacity, size, and hauling power is what you need on a vehicle over regular schedules – an everyday workhorse – getting a new one is a sound investment you can make.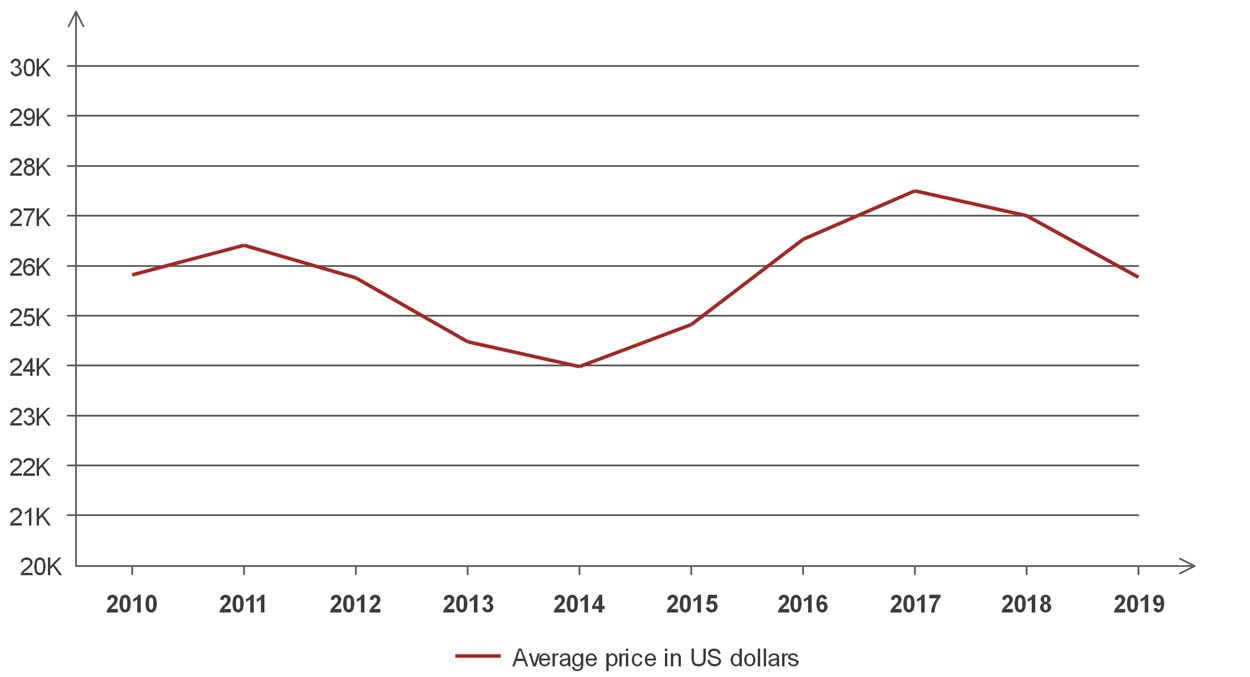 A new pickup can cost an average of $25,000 nowadays. This will only be the base price though, since you'd also want to invest on featured accessories to get the most out of this rugged four-wheel.
Most people tend to get a used pickup rather than buy one, because of the price difference. Aside from the cost though, what are the pros and cons of each type?
Buying a new car means you get all the latest off the production line, from the newest safety technology to the most updated comfort and power features. In addition, one important factor that buyers consider is warranty protection. As a new buy, your pickup's price already include warranty coverage, and most dealers offer bumper-to-bumper warranties for at least 36,000 miles or up to three years, whichever comes first. Aside from its already expensive base price, one major drawback for buying a new pickup is the added costs and hidden charges. You get taxed on the entire sales price, plus a new car is more expensive to insure than a used pickup. In addition, initial depreciation on a new car is much higher, since most vehicles lose almost half their value in just two to three years.
Pros and Cons of Buying a New Pickup
| PROS | CONS |
| --- | --- |
| Pristine condition so a good deal for those who value first-ownership. | Initial depreciation is a killer since most pickups quickly lose value in 2-3 years. |
| Latest safety and engineering tech are included as features. | Exclusivity means most recent models are only available from official dealers. |
| New models mean new designs in updated color, trim, and features. | Hidden charges like over-all sales tax add to the burden of the price. |
| There's a variety of buying options for latest models from known brands. | As new property, most are more expensive to insure. |
| Mostly cheaper to finance in the long run since most dealers offer all-in price. | |
For most used car enthusiasts, the lower price is of course the main advantage. Other than that though, used cars are already tested for their reliability, and since most pickups are built for rugged driving, most used ones are still in top conditions so wear and tear shouldn't be an issue.
Meanwhile, although each salesman guarantee top-notch deals for used pickups, you have to do the hard work on checking it out, which is a big setback. You'd need at least a decent history check from reputable sources, and accrue additional costs like hiring a skilled mechanic to check the car out. Used cars are usually sold as-is and with almost no warranty coverage.
Pros and Cons of Buying a Used Pickup
| PROS | CONS |
| --- | --- |
| Most used cars have already depreciated but are still in good condition. | You need to do research yourself, including history checks. |
| Cost-wise, financing will less likely to put you underwater. | Almost all are sold as-is, so you need an expert to thoroughly check. |
| Low prices mean better deals from used car lots, and lots of options. | Most have their coverage expired with less to no warranty from dealers. |
| Most are in good running condition so wear & tear is still manageable. | Since you start with low down payment, most likely will have higher-priced financing. |
Buying your first pickup
Be it from a used car lot of fresh off a showroom, a good pickup is usually a good asset, so most experts agree that buying, rather than leasing it, is the most profitable in the long run.
So now you've decided to buy your first pickup, you need to ask which is better, paying it in full or financing through an auto loan?
Of course, most dealers would tend to go the direct route and offer you discounts and other freebies when paying cash in full, but don't be fooled. Paying in cash and financing your first pickup have their own benefits, as well as disadvantages.
Most financial managers will say that the major setback when paying cash is you'll miss out on building up your credit. In addition, others would say that it is better to just pay the DP and get financing, and then let the remaining money work by investing it – you'll get more returns that way.
Meanwhile, the biggest advantage to paying in cash is the convenience of not having to pay monthly premiums, as well as getting peace of mind knowing that you are already the proud owner of your first-ever pickup.
Pros and Cons of Paying Cash in Full
| PROS | CONS |
| --- | --- |
| No financing costs | Missed opportunity to build credit rating |
| Dealers usually offer promos on full payments | Part of payment could've been used in investing |
| Peace of mind knowing you already own the car | |
| No monthly payments to think of | |
In getting an auto loan, the main advantage is that you don't need to have pay the full price for the pickup you want, which is a big help especially if you're opting for a new one (which can come with an expensive price tag). If you don't miss on payments, you also get the added incentive of building a positive credit line which is also a great help for future purchases. There are online tools available like a trusty loan calculator so you can check out what your premiums will be and get the most cost-effective amortization schedule so you won't miss out on your payments.
However, you need to be diligent if you want to take out a loan to pay for your car, since you'd need to research on the best deals available. Also, additional financing costs tend to make the purchase price higher versus paying it in full. To make your credit ratings positive, you'd need to track your monthly premiums and make sure to pay on time, which can be an inconvenience time- and budget-wise.
Pros and Cons of Getting an Auto Loan
| PROS | CONS |
| --- | --- |
| Build positive credit | Higher prices because of financing costs |
| No big payments needed | Inconvenience of tracking amortization |
| Opportunity to invest and increase cash flow | Time and effort is spent on searching for best deals |
How will you know which will be the most beneficial for you? Check your personal preferences in money management. If you are someone who likes less risks and inconveniences, then paying cash upfront probably works best for you. However, if you like to take minimal risks with investments or are interested in building better credit, an auto loan is the most suitable option for you.
Now, drive!
Now that you've decided how to pay for your car, it's time to pick up your pickup. With all its performance levels, features, and add-ons, a truck that you've bought for yourself is a good thing to have. Be it new or old, good maintenance guarantees that you and your truck will be riding companions for a long time.
About the Author
Benjie has been a bookwork for decades. He believes that writing is a form of expression, and that connecting with readers means you've expressed yourself correctly. Writing mostly on tech and social media topics, he continues to win over readers across other areas, too – both to inform and engage. His works have appeared in news publications like Christian Today & on business sites like Freelancer.com.
When taking a break from writing, you'll most likely come across Benjie in a quiet corner of a room browsing an eBook by Robert Kiyosaki or Napoleon Hill, or reading the latest from Tom Clancy or WEB Griffin. In his spare time he enjoys urban trekking & photography.