Tips for Car Buyers With Bad Credit Scores or No Credit History
People with bad credit scores are typically charged significantly higher interest rates than people with higher credit scores. As such, loans for higher amounts or longer periods of time cost those with bad credit or no credit significantly more interest over the life of the loan.
What is A Good Credit Score?

Lenders typically look at FICO scores in order to help determine how creditworthy a borrower is. Here are statistics by category, though as a rough rule of thumb anything in the 700s and up is usually good enough to qualify for most forms of consumer lending at a competitive interest rate.
People with lower credit scores may still qualify for credit, but they will typically be required to pay a higher down payment on the loan and/or recieve a significantly higher interest rate on their financing.
| Rating | Credit Score | Percent of Population |
| --- | --- | --- |
| Exceptional | 800 to 850 | 19.9% |
| Very Good | 740 to 799 | 18.2% |
| Good | 670 to 739 | 21.5% |
| Fair | 580 to 669 | 20.2% |
| Very Poor | 300 to 579 | 17% |
VantageScore is a competitor to Fair Isaac Corporation's FICO with a similar rating scale, though slightly different verbiage & ratings.
| Rating | Credit Score | Percent of Population |
| --- | --- | --- |
| Excellent | 750 to 850 | 30.3% |
| Good | 700 to 749 | 12.6% |
| Fair | 650 to 699 | 18.3% |
| Poor | 550 to 649 | 34.1% |
| Very Poor | 300 to 549 | 16.7% |
What Does a Bad Credit Score Indicate?
Lenders typically loan money with intent to get paid back (unless they are intentionally creating bad credit & misrepresenting it to quickly sell it off to others like the big banks did during the housing bubble preceeding the Great Recession). People who have low credit scores are viewed as a higher risk & less likely to pay back the funds in a timely manner. Thus lenders are both less likely to lend to them & more likely to charge a higher rate of interest to compensate for the higher risk level. FICO scores are based primarily on 5 factors
| Factor | Weighting |
| --- | --- |
| Payment History | 35% |
| Amount Owed | 30% |
| Length of Credit History | 15% |
| Types of Credit Used | 10% |
| New Credit | 10% |
People typically do not develop a bad credit profile by missing a single payment that they quickly catch up on, but rather by routinely falling behind on payments. This is not to say the system is perfect. Some aspects of health are simply driven by the genetic lottery & many Americans struggle with health expenses.
How Much Does a Poor Credit Score Cost?
People with poor credit scores usually pay more for financed purchases. The opposite happing is so anomalous that it gets widespread skeptical press coverage whenever it happens.
According to Informa Research Services in January of 2013, the national average for a 36-month $20,000 auto loan would have the following costs.
| FICO® score | APR | Monthly payment |
| --- | --- | --- |
| 720-850 | 3.433% | $585 |
| 690-719 | 4.874% | $598 |
| 660-689 | 6.927% | $617 |
| 620-659 | 10.403% | $649 |
| 590-619 | 15.746% | $701 |
| 500-589 | 16.969% | $713 |
Based on the above chart, a person with great credit might be expected to pay $1,060 in interest over the life of the loan. Whereas a person with a low credit score might pay closer to $5,668 for the same loan, an amount that is 435% higher.
Market manipulation by central banks has driven up asset prices & pushed investors further out onto the risk curve. This in turn has pushed down some consumer lending rates. That has some people worrying deep subprime auto loans might be analgeous to subprime mortgages, though the total loan volume is far smaller & cars are a much more liquid market than homes. Santander only did income verification for 8% of borrowers.
What Credit Score Does The Average Borrower Have When Buying a Car?
The following charts show the credit score at origination for auto loans across the United States at various percentiles & shows loans by credit range.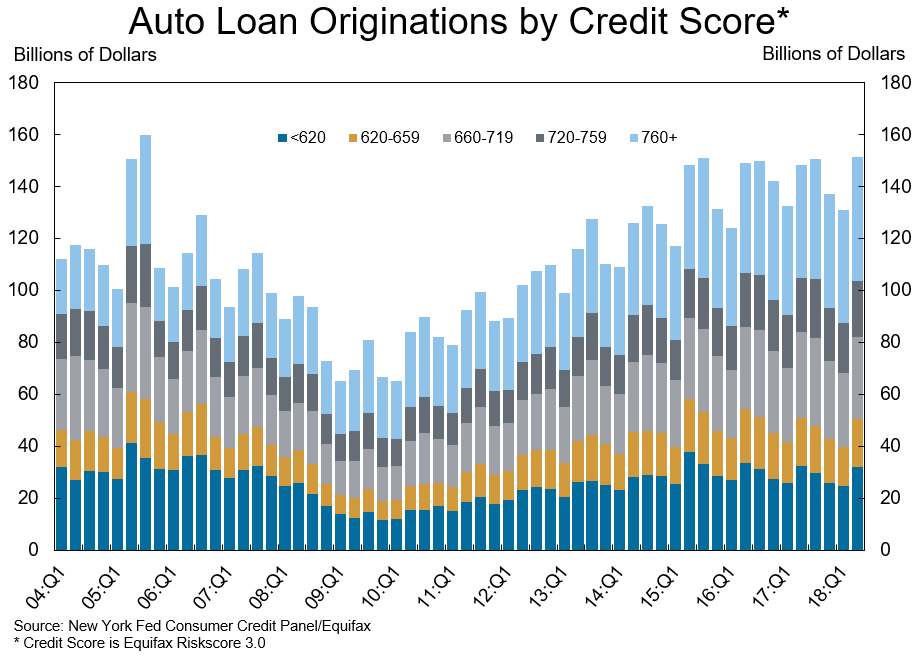 Things to Look Out For
Working with a bad lender can quite literally ruin your life.
Some unscrupulous lenders add junk fees in their loans like unneeded force-placed insurance. Make sure your loan does not have any hidden gotchas in the contract.
Some sleazy dealerships claim the auto loan agreement the borrower signed hit a snag with the bank & then try to switch them over to an even higher interest loan where they get a larger kickback. If the buyer does not agree the sleazy used car salesman will often steal the down payment for the car.
Many dealers catering to people woth poor credit embed tracking features in the cars & even use remote kill switches that prevent the car from starting if a payment is ever missed. Starter interruption devices cost as little as $100 to install.
Used cars are known for being a "market of lemons" where product is often misrepresented to make sales. Unsuspecting buyers may not be aware a vehicle was in a flood or had some other similar damage. You can get vehicle history reports from companies like CarFax & AutoCheck. Service like NADA Guides & the Kelley Blue Book estimate car values so you can make sure you are not paying well north of market value for your vehicle. NADA tends to skew slightly hgiher than Kelley as they are backed by auto dealers.
Improving Your Creditworthiness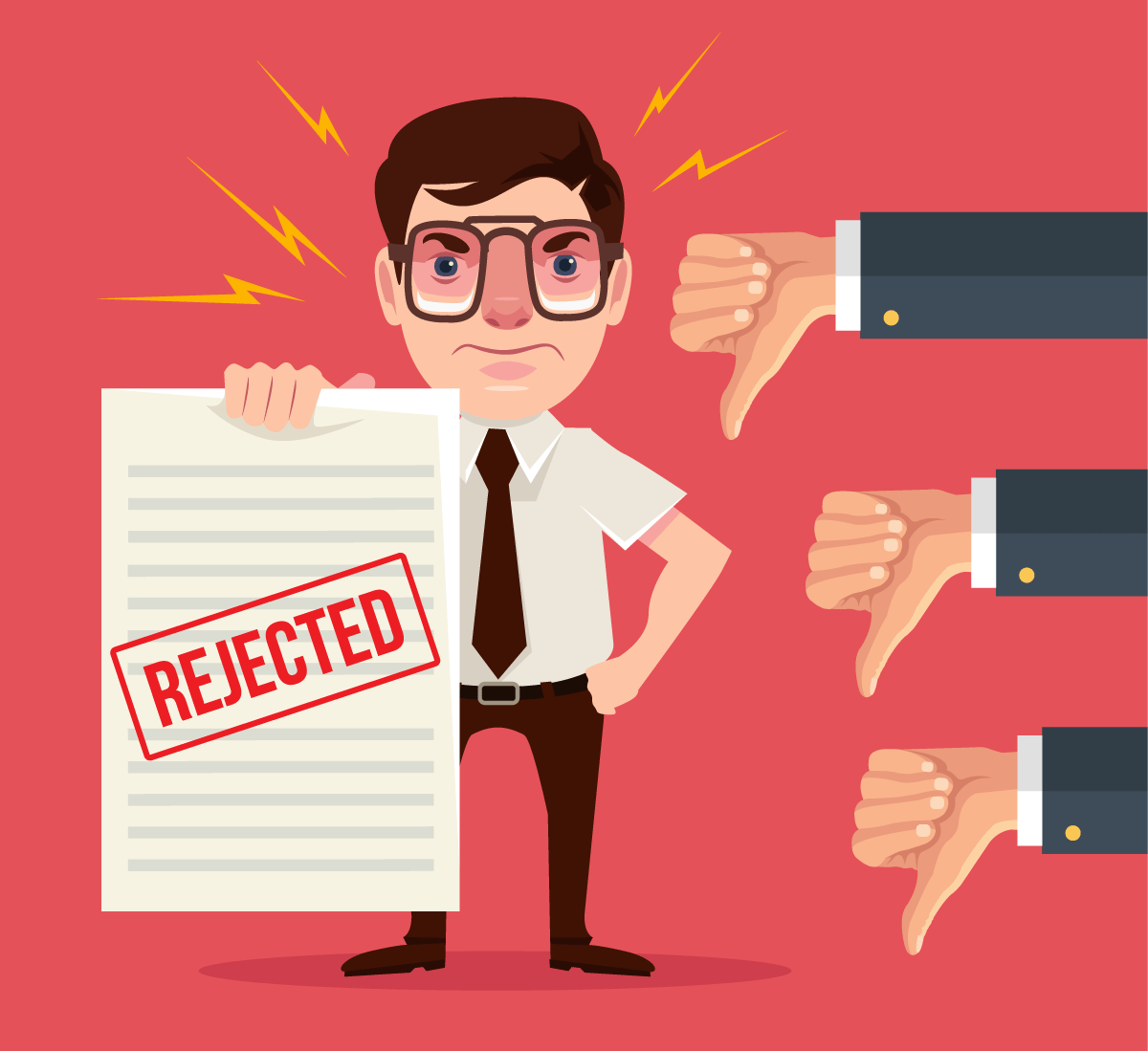 Here are a some ways to save money when buying a car with a bad credit profile:
consider buying a used car that you can afford to pay cash for
buy a smaller & more affordable car

this can save money on loan interest costs as well as insurance AND gas
students who do well in school may also qualify for discounts on insurance rates

save up to make a larger down payment on your purchase
get a co-signer for your loan
borrow from family for part or all of the loan
get a loan with no pre-payment penalty & make extra payments
build credit with a credit card & regularly pay it off (carrying no balance from month to month) such that you establish a credit history or rebuild your credit before making larger purchases
download your free credit reports from AnnualCreditReport.com at least a couple months before you want to buy a car, such that you have time to clean up any issues before seeking auto financing.

Challenge any information that is not recognized or verifiable. The company that has placed the entry on the credit report has 30 days to respond to a challenge with proof that the creditor owes them what the entry claims. If the company does not respond within 30 days, the entry is removed from the credit report.
You can also purchase your credit score from MyFICO for $19.99 or sign up for free at CreditKarma, in order to best estimate what sort of interest rate you might be charged for your loan.