So You Think You Can RV?
Published August 27, 2019 by Benjie Sambas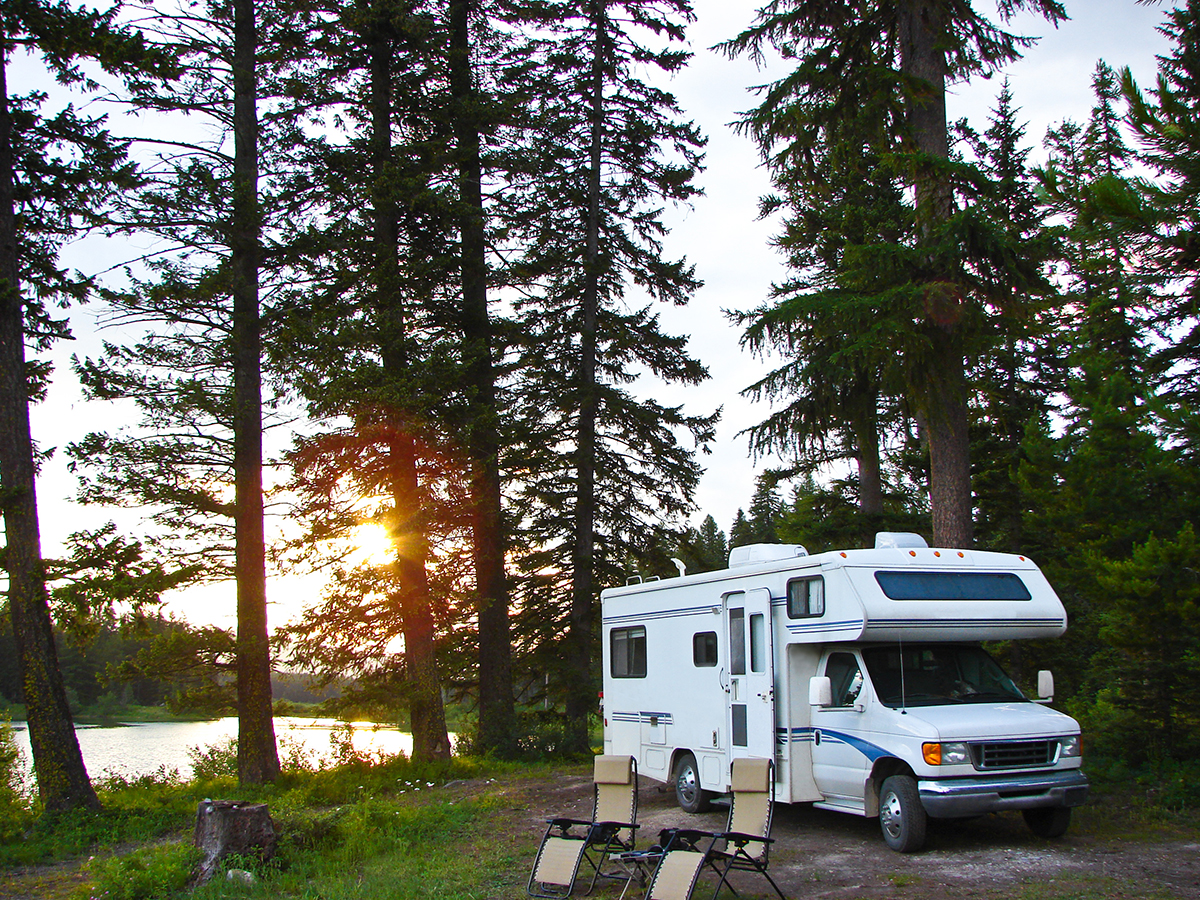 Okay, so you're planning to get your first RV, but don't know where to start. It may seem daunting, since RVs may generally be considered as major investments, so you have a lot to think about and there's so much information out there. What you need is an honest-to-goodness breakdown of what it takes to become a responsible RV owner.
Wait, what's an RV anyway?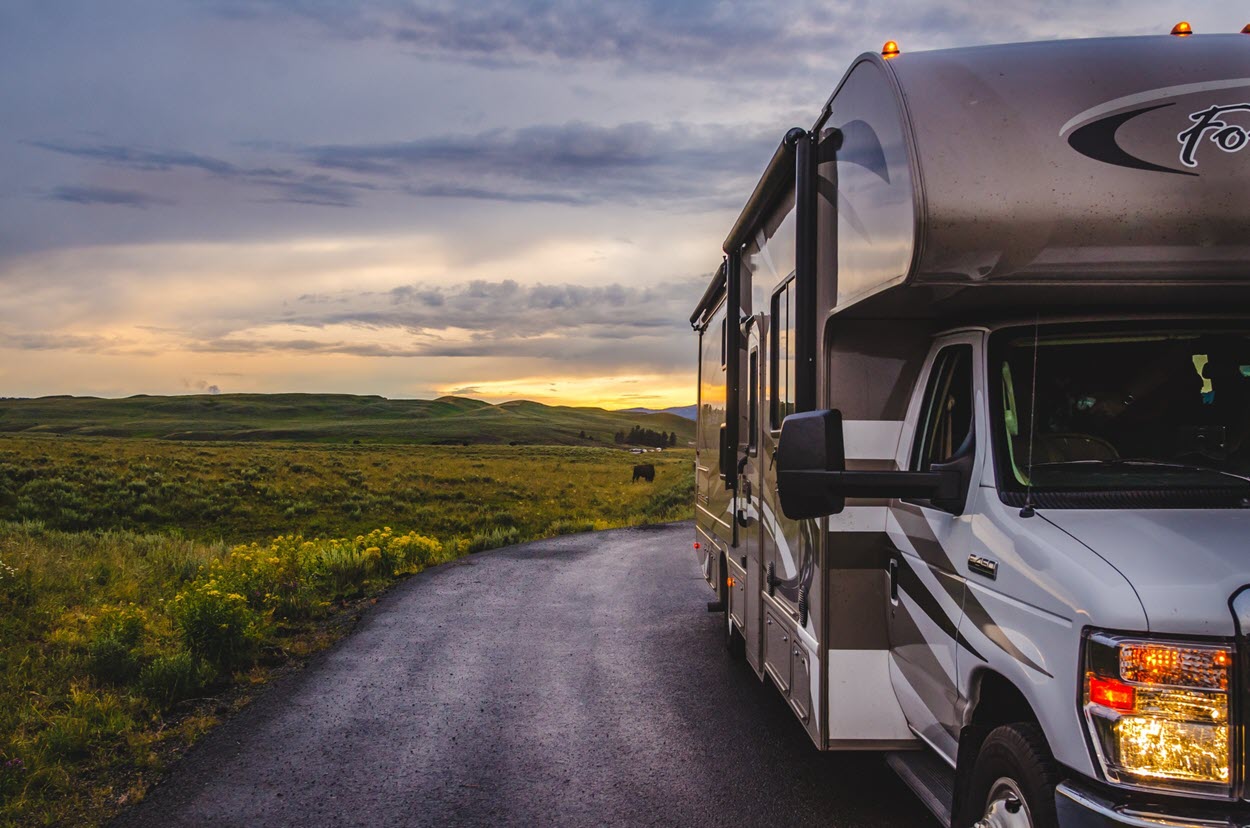 Essentially, an RV is your home away from home.
Although a beginner in RVing, you may already have an idea on what it is. Simply put, a recreational vehicle (hence, an RV) is your home away from home. Depending on the size, your needs, and other details (your budget, for example), RVs can range from simple trailers to lavish campers with all the comforts you need to feel at home. It can be just a big van with jury-rigged bed, a pop-up functional trailer, or a million-dollar Class A. If you can sleep, cook, and possible live on it, it's an RV. As a popular quote among travelers say,
"home is where you park it."
There are different types of recreational vehicles, and each can vary in shapes, accommodations, and sizes. Some of the common and popular types of rigs include motor homes, trailers, and fifth wheels, among others.
Generally, there are two types of RVs based on how they are moved – motorhomes and towed trailers. For motorized rigs, they are usually typed as either Class A, B, or C, (and some makers have a Super C option). Trailers come in all shapes and sizes, and since most would-be owners already have their van or truck, a trailer is a good choice for beginners since you won't list double expenses on gas and engine maintenance.
However, some states have their own definition of what an RV is (for insurance and other legal purposes) so it's best to check in with the local DMV before buying or renting one.
Recreational Vehicles Based on Increasing Sizes
| Type | Size | Capacity | Average Cost (New) | Sample Brands/Models |
| --- | --- | --- | --- | --- |
| Travel Trailer | 12-35 feet | sleeps up to 10 | $8,000 to $95,000 | Airstream Sport, Forest River Flagstaff Micro-Lite, Dutchmen Aerolite |
| Class B Motorhome | 16-22 feet | sleeps up to 4 | $30,000 to $130,000 | Ehgna Roadtrek, Coachmen Galleria, Winnebago Era |
| Class C Motorhome | 21-35 feet | sleeps up to 8 | $43,000 to $200,000 | Coachmen Freelander, Winnebago Outlook, Thor Chateau |
| Fifth Wheel Trailer | 21-40 feet | sleeps up to 6 | $18,000 to $160,000 | Coachmen Chaparral, Heartland Sundance, Forest River Cedar Creek |
| Class A Motorhome | 21-40 feet | sleeps up to 6 | $60,000 to $500,000+ | Newmar Bay Star, Fleetwood Bounder, Thor Miramar |
While RVs may come in as little as $8,000 brand-new, remember that as with most vehicles, the total cost is much more than the sticker price. Aside from maintenance and repair costs for both the amenities and the vehicle, you'd need to add the expenses for either part-time RV traveling or full-time RV living.
Popular brands
RVing has evolved as a niche trend to become a recognizable industry, and most industry players have made their mark as popular brands for recreational vehicles. Some of the common trucks and rigs you may see on the road include:
Winnebago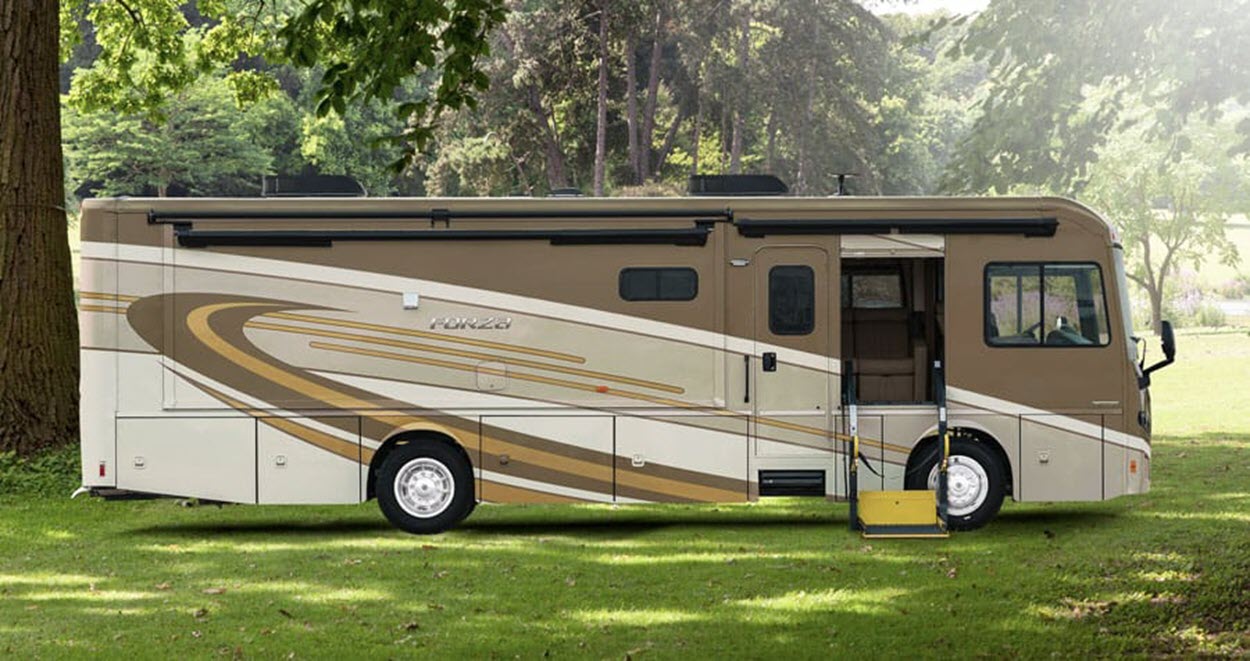 One distinct series for Winnebago's new lineups is their Accessibility Enhanced line. Pictured above is the Forza AE, with a starting price of $341,124.
The company is said to be one of the front runners in the industry that they have become synonymous with it – if someone asks if you already have a Winnebago, they're asking about an RV. This Iowa-based conglomerate has been making trailers and motorhomes since the 1950's, and continues to bring their vision of a "trusted leader in outdoor lifestyle solutions by providing unmatched innovation, quality and service in the industries we engage" through their new lineups. Popular models under the brand include Forza, Horizon, and Navion.
Airstream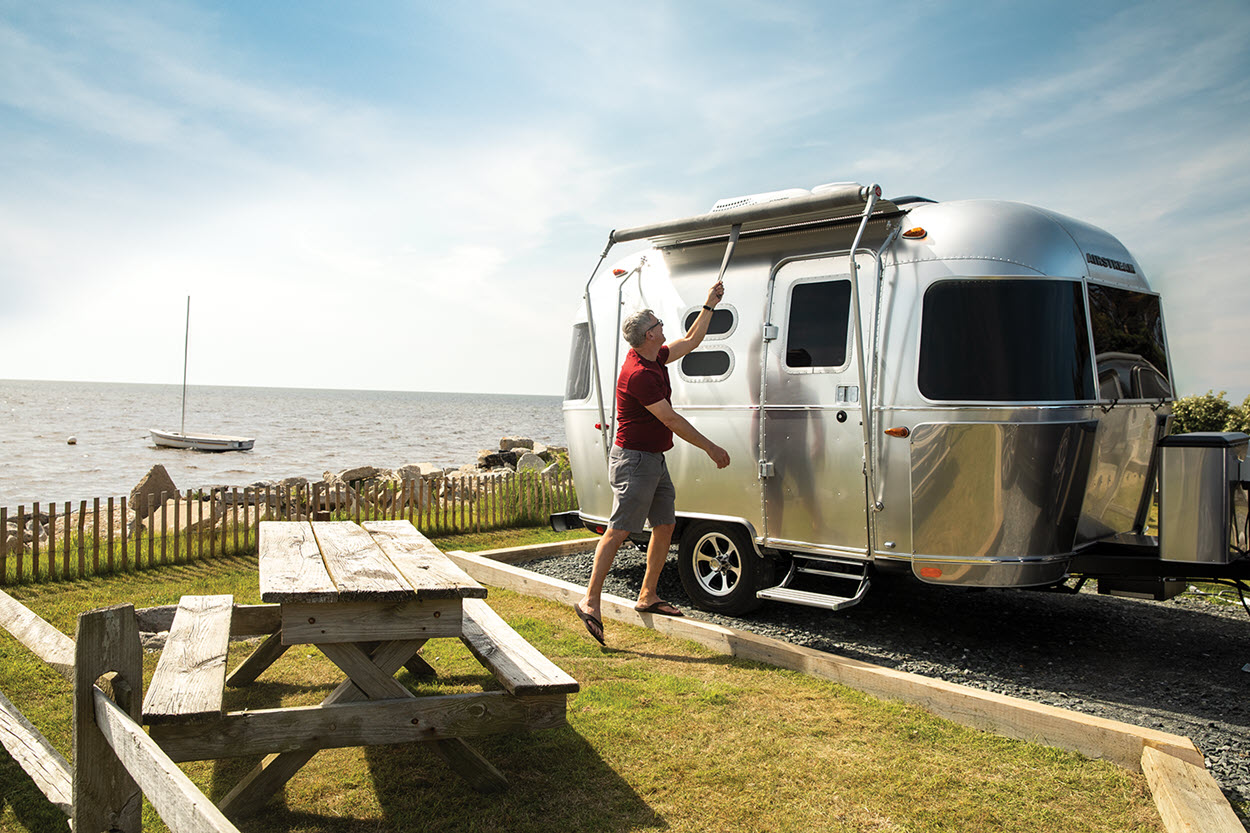 The new Airstream Caravel still features the signature look distinct to the brand.
Another major player in the field that has become synonymous with mostly travel trailer rigs, Airstream has been producing its lineup for over 80 years. Its products carry the distinctive aluminum bullet design, so they are easily recognizable even from afar.
Thor Motor Coach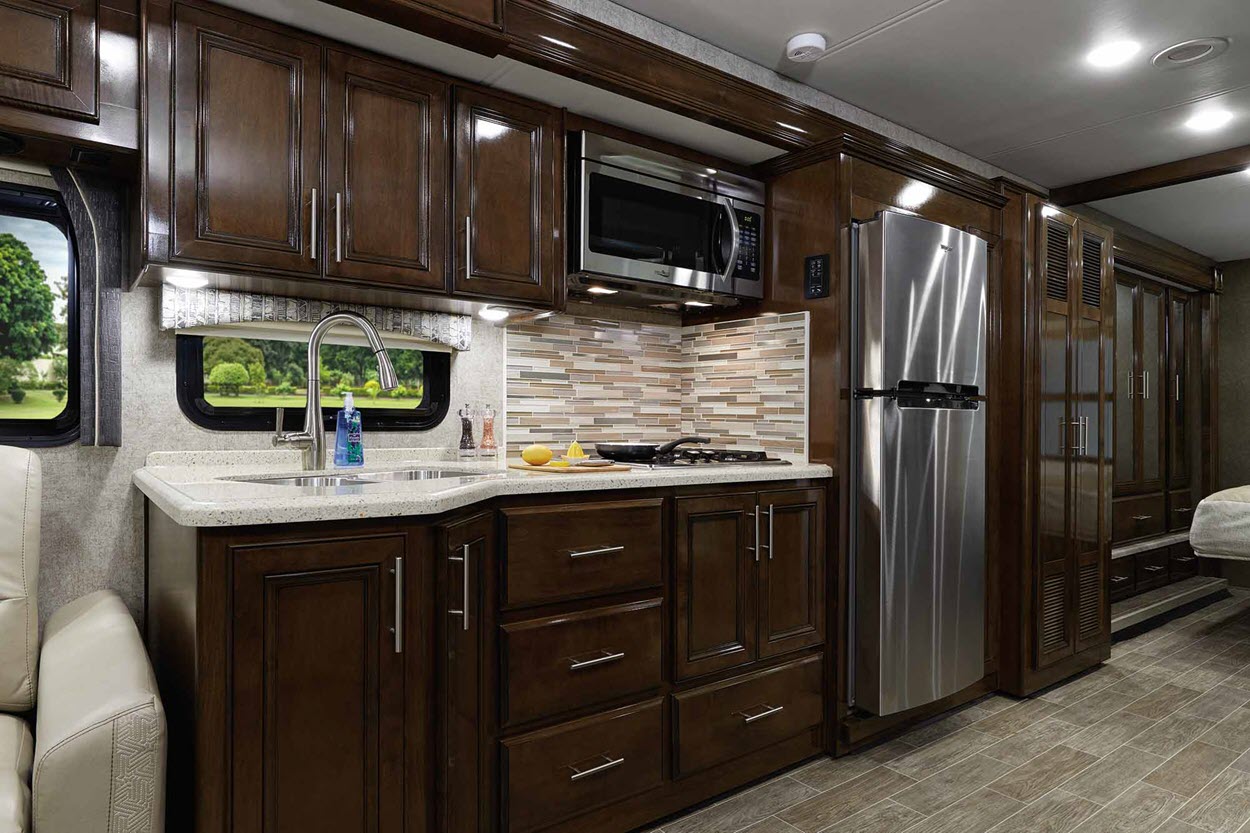 The interior of the 2020 Miramar RV from Thor Motor Coach spells luxury and comfort.
Another popular brand due to their range of products in terms of types, amenities, layout, and design. If they are to be believed,  the company makes one out of every four motorhomes sold each year. Airstream is a sister company since it also falls under the same parent, Thor Industries.
Coachmen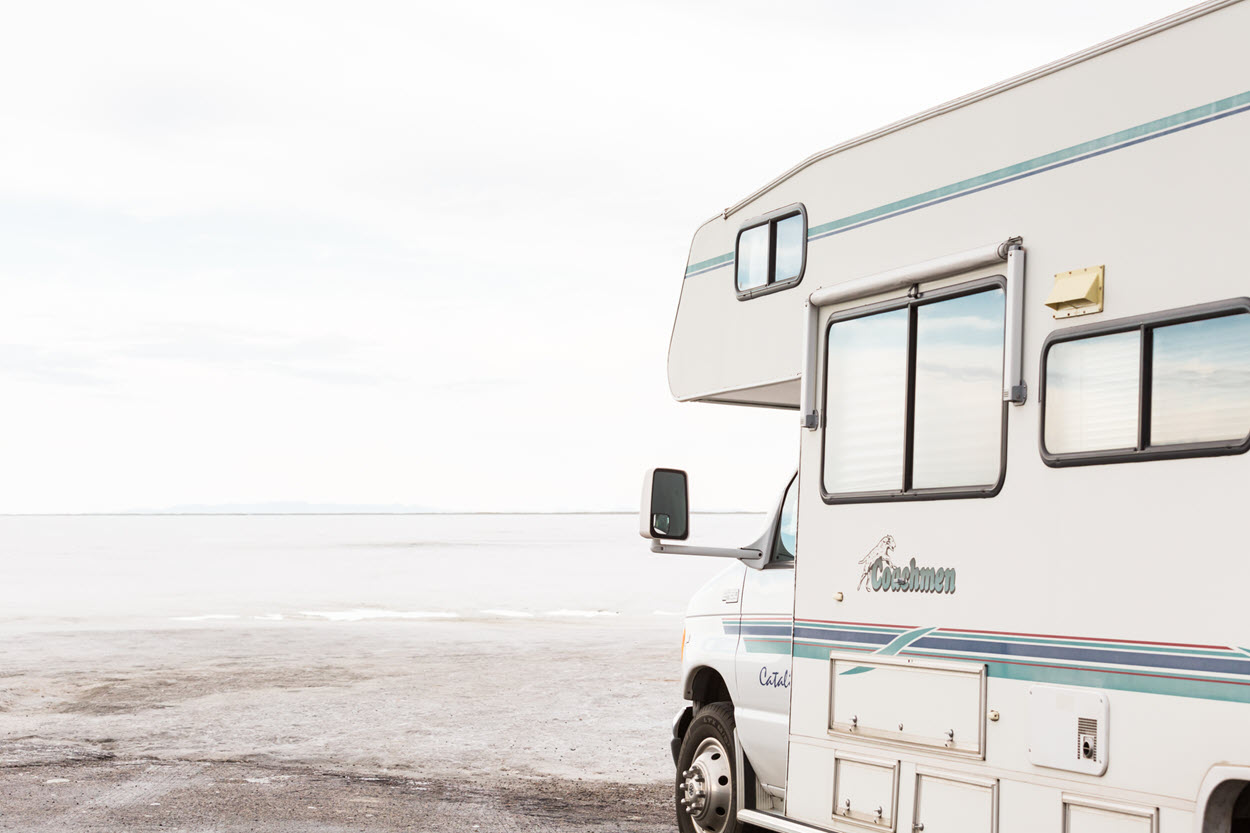 A Coachmen motorhome traveling on the Bonneville Salt Flats. Depending on its specs, an RV can travel almost anywhere.
An Indiana-based outfit, Coachmen has been in the business for 55 years, and has reportedly sold more than 600,000 recreational vehicles. With a wide range of products, this makes the company one of the most popular RV dealers in the field.
Things to ask before choosing an RV…
Before you go out and get your first RV, or if you are already a seasoned renter that wants to upgrade as a full-time owner, there are a lot of things you need to think of before deciding on a rig. Usually, you need to ask yourself these questions:
Why do I need an RV?
One of the most important factors to consider is to check what you need a recreational vehicle for. If you are a seasonal outdoor traveler but only stays for a day or two in your destination, it would be best if you could just check in to some other alternatives like lodges. However, if you like to camp out for weeks, then an RV may be the most economical choice.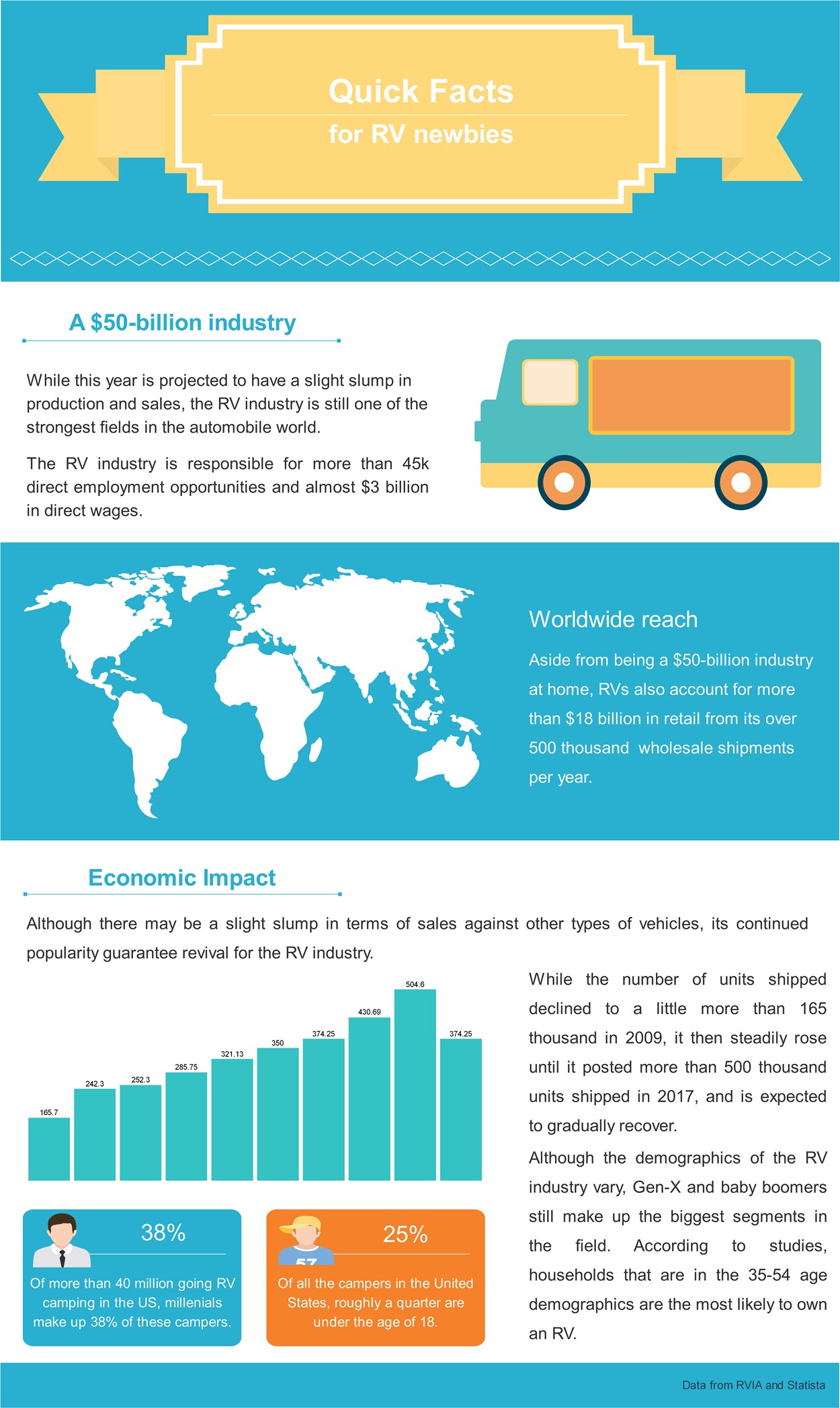 Will I buy or rent one?
This is closely connected to why you need an RV in the first place. For seasonal campers, renting is the best option to go for, especially if they go outdoors for weeks or months, but infrequently. However, if you are onto living a full-on camper life, or if you regularly schedule trips outdoors for weeks and months, then buying one is the smarter choice.
Is budget an issue?
Cost is likely the major issue that beginners (and even veterans) think of when it comes to RVing. Aside from the price of the RV itself, maintenance and other expenses like insurance should also be taken into account. However, there are several ways you can lessen the burden when purchasing RVs, since most dealerships are often available at vehicle shows with promos, and take your time in checking out each sale. Meanwhile, there are also loans available that are tailor-made for RV purchases, even for luxurious Class-A's such as the Kounty Star RV from Newmar.  There are even helpful tools online you can use to check for yourself what the amortizations will be, such as an online loan calculator like this one here.
What RV will I get?
Now that you are a step closer to buying that recreational vehicle you've dreamed of, you need to decide which RV you'd pay for. Depending on their use, size, and design, motorhomes and trailers are categorized into different classes, and there are some makers who are top-class in a particular model or design.
Top 5 Brands for Travel Trailer Purchases
| Brand | Model | Market Share | Suggested List (Base) Price | Low Retail Price | Average Retail Price |
| --- | --- | --- | --- | --- | --- |
| Jayco | Jay Flight (for M-21 QB) | 6.9% | $22,781 | $12,900 | $15,550 |
| Forest River | Cherokee (M-264CK) | 5.4% | $32,035 | $18,000 | $21,700 |
| Forest River | Wildwood (M-28DBUD) | 4.5% | $29,707 | $16,950 | $20,450 |
| Forest River | Salem (M-27DBUD) | 4.0% | $29,717 | $16,950 | $20,450 |
| Forest River | Rockwood (G12RK) | 3.9% | $11,488 | $6,300 | $7,600 |
Among the different types of recreational vehicles, travel trailers continue to dominate the RV market. In 2018, up to 289,000 units were sold in the United States.
Top 5 Brands for Fifth Wheels
| Brand | Model | Market Share | Suggested List (Base) Price | Low Retail Price | Average Retail Price |
| --- | --- | --- | --- | --- | --- |
| Keystone | Montana (M-3120 RL) | 8.0% | $85,688 | $48,500 | $58,450 |
| Grand Design | Reflection (M-220RK) | 7.3% | $38,486 | $23,700 | $28,550 |
| Keystone | Cougar (M-246 RLSWE) | 6.0% | $48,298 | $25,950 | $31,250 |
| Jayco | Eagle | 5.4% | $55,900 | $32,850 | $39,600 |
| Grand Design | Solitude (M-300GK) | 3.7% | $80,130 | $49,150 | $59,200 |
Fifth-wheels were the second best-selling RVs in 2018, with a total of 83,252 units sold in the US.
Top 5 Brands for Class A Motorhomes
| Brand | Model | Market Share | Suggested List (Base) Price | Low Retail Price | Average Retail Price |
| --- | --- | --- | --- | --- | --- |
| Winnebago | combined gas and diesel models | 10.4% | $179,475 (for M-25P) | $99,850 | $120,350 |
| Tiffin Allegro | Ford (M-31MA) | 7.8% | $183,343 | $125,250 | $150,900 |
| Thor | ACE (Evo 27.2 Ford) | 6.6% | $119,925 | $64,800 | $78,050 |
| Coachmen | by Forest River | 5.1% | $128,798 (for M-29) | $67,100 | $80,850 |
| Forest River | Georgetown | 4.7% | $117,645 (for M-24W) | $64,400 | $77,600 |
Class A motorhomes are the most expensive among the different types, but that didn't stop people in investing in an RV.
Top 4 Brands for Class B Motorhomes
| Brand | Model | Market Share | Suggested List (Base) Price | Low Retail Price | Average Retail Price |
| --- | --- | --- | --- | --- | --- |
| Winnebago | Touring Coach | 29.0% | $139,587 (for M-59GL Ram) | $92,650 | $111,650 |
| Erwyn | Hymer | 28.8% | $111,922 (for Aktiv 2.0) | $74,900 | $90,250 |
| Airstream | – | 10.8% | $165,878 (for EXT Grand Tour) | $115,800 | $139,500 |
| Pleasure Way | – | 8.0% | $139,035 | $99,000 | $119,300 |
Commonly known as camper vans, these Class B RVs are increasing in popularity in recent years.
Top 5 Brands for Class C Motorhomes
| Brand | Model | Market Share | Suggested List (Base) Price | List Retail Price | Average Retail Price |
| --- | --- | --- | --- | --- | --- |
| Thor | Four Winds | 19.3% | $90,188 (for M-22B) | $47,650 | $57,400 |
| Coachmen | by Forest River | 13.0% | $80,089 (for M-20 QB Ford E350) | $39,200 | $47,200 |
| Winnebago | – | 11.0% | $90,186 (for M-22R Ford) | $42,650 | $51,400 |
| Forest River | Sunseeker | 6.6% | $87,497 (for M-2290S Ford E450) | $50,850 | $61,250 |
| Thor | Chateau | 5.4% | $90,188 (for M-22B E350-V10) | $48,100 | $57,950 |
Class C is the in-between for Class A and B in terms of size. Meanwhile, this type is also popular among RV lifers because of the amenities included in the packages, as well as ease of driving.
There are many pros and cons for each type. For practical reasons, motorhomes seem to be the best option for those who like to have their travel and comfort in just one rig. You can also choose a travel trailer, though you'd need to check if your truck or van can conveniently and comfortably tow the RV. It's unwise to go for a trailer only to find out that you'd need another vehicle to manage pulling it.
Am I ready?
Having an RV doesn't mean that you're ready to live the life of a happy camper, as there are still plenty of other details to iron out. You need to plan where to park your RV, as there are camping grounds that need reservations. You also need to be familiar in hauling and parking, and be comfortable driving around a big rig. Maintenance is also a concern, as well as RV insurance, since there may be differences in how RVs are insured versus a regular automotive coverage. Meanwhile, much like RV purchase loans, there are helpful tools to prepare for your trailer home insurance expenses, like a custom insurance calculator to check how much your coverage premiums will be.
… or books to read on the RV life
In the age of information when almost all things are online, you'd ask why there's a need for paperbacks on living the RV life. Well, you may find yourself in a camping ground with spotty connection, or you want to disconnect from everything electronic for weeks. It's best to check these out and get more resources on how to make the most out of your RV.
RVing, Fourth Edition (Idiot's Guides): The essentials of RVing told in as fool-proof way as possible. The book contains practical tips how to stock your rig, to mapping the best routes, and even troubleshooting tips on breakdowns, accidents, weather, and others. The edition is on stock on Amazon.
Motorhome and RV Retirement Living: Mostly catering to full-on RV living, this paperback is for retirees looking to live their dream of an RV lifestyle, and even promises to convince readers that living in a trailer is the most enjoyable and least expensive way to retire.
Rand McNally 2020 Large Scale Road Atlas: Although there are already tools and apps available to help navigate the different routes, a decent book of maps is always handy to have. The follow-up to the 2019 edition is packed with details and maps of every US state, as well as comprehensive, unabridged index so you'd know what – and where – to look for faster. Get the book here.
Wrapping up
Choosing an RV is a major decision. Aside from being a big investment, purchasing or renting an RV means that there may be some major changes into your life, from making sure to selecting the best type for your intended lifestyle, and all the decisions to come from it, to making the big leap in living a full-on RV life.
About the Author
Benjie has been a bookwork for decades. He believes that writing is a form of expression, and that connecting with readers means you've expressed yourself correctly. Writing mostly on tech and social media topics, he continues to win over readers across other areas, too – both to inform and engage. His works have appeared in news publications like Christian Today & on business sites like Freelancer.com.
When taking a break from writing, you'll most likely come across Benjie in a quiet corner of a room browsing an eBook by Robert Kiyosaki or Napoleon Hill, or reading the latest from Tom Clancy or WEB Griffin. In his spare time he enjoys urban trekking & photography.